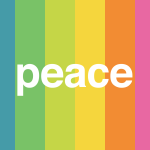 At first glance it's easy to assume that happiness and peacefulness go together….if you have one you have the other. I've discovered through my mindfulness practice that they don't necessarily co exist. I have yet to meet anyone who is happy all the time including myself. Yet, I have met people who have a constant sense of peace all the time including myself.
Prevalent in our culture now are many ways to achieve happiness. I see it being advertised everywhere with approaches to happiness running the full gamut. It's as if without happiness we are failing as human beings. In fact, the intense striving for happiness is putting enormous pressure on us and ironically making us unhappy. With mindfulness practice we learn how to be present with unhappiness as well as happiness.It is a given that there will be times that we are unhappy and the willingness to be present for that is what brings peace. It doesn't necessarily bring happiness but the peace certainly makes the unhappiness more tolerable and lays the foundation for the possibility of happiness.
Peace comes with practice. Practicing active acceptance of what is present allows peace to be experienced. We are no longer fighting ourselves and the world to be something other than what we are. Also our ability to let go of each moment clears the way for the acceptance of the next moment. This sequence of acceptance and letting go is what takes away the friction/stress of life. Without that friction we discover that peace was always there just on the other side of the friction. So staying in the present moment gives peace the opportunity to arise in our experience and allows that peace to become the underpinning for all experiences whether they be happy or unhappy.